South Coast Travel Guide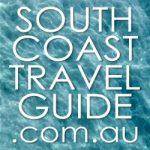 A comprehensive easy to use, all inclusive tourism website for the Eurobodalla region celebrating all there is to see and do.
The South Coast Travel Guide is a comprehensive, one stop website independently launched to be an adjunct to the official tourism websites and to fill the gaps covering everything a visitor needs to know of the 110kms of Eurobodalla coastline, from South Durras to The Tilbas. It proactively lists all know tourism associated activities and service providers for free and promotes the area and its attractions in an easy to use format. For Visitors and for Locals who want to rediscover where they live.