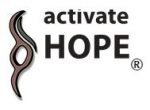 Long Business Description
activateHOPE  :  We CATCH TIME  
A virtual professional services source that assists the balance between family, work and other life commitments.
We aim to create a sense of positive impact for those who are struggling to find the time to get everything done.   We believe that the simple task of sourcing a second set of hands goes a long way towards alleviating pressures, and we know that when things get overloaded or overwhelmed, that, two is better than one, and three better than two.  Importantly our work is more about providing an environment of support that ultimately contributes to the physical, emotional and financial health of every person we work with.
Put simply – we will work with you to 'get stuff done'.  Whether big, whether small, whether for you personally or whether for your business or your program.
activateHOPE Catching Time for Busy People so They can Enjoy More Life
Business Strategy, Virtual Assistance, Project Management and Program Management services.
Examples; Document development from draft or new creation |  PA or EA support such as making appointments, arranging meetings on your behalf, working together to find solutions  |  Event Management, events & travel research and scheduling  |  Strategic focus; research, analysis, development or support for Businesses and Programs   |  Tailored Consultancy or Case / Project Management Support  |  Referral to third-party providers, only if required and approved.