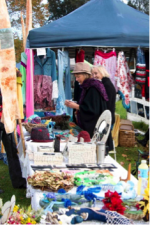 Long Business Description
River of Art is a 10 day festival of live music, theatre, film, visual arts, literature, creative workshops and cultural experiences held along the picturesque NSW far south coast. This area, known as the Eurobodalla Shire, extends between Durras Lake in the north and Wallaga Lake in the south.River of Art celebrates the abundance of creative practitioners living in and complementing the beautiful environment of the Eurobodalla.
The festival program is generated from the community and all events and activities are run by volunteers in collaboration with local businesses and the Eurobodalla Shire Council. Residents and visitors will be able to experience live music, theatre, film, visual arts and literature from one end of the shire to the other.
We hope to inspire you with a creative and visually spectacular festival in 2017 and look forward to welcoming you to our region.
Facebook : www.facebook.com/River-of-Art-594920067202240/
Instagram : www.instagram.com/eurobodallariverofart/